Where bears are boss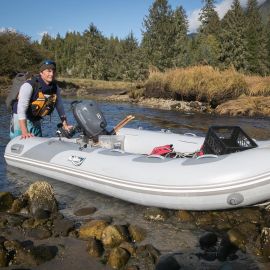 Have you thought about a career as a wildlife viewing guide or working in lodge-based hospitality? Our staff come with a variety of previous experience but we all share a deep passion for working with people, for the Broughton Archipelago and for the amazing wildlife that surrounds us.
We offer positions in guiding and lodge operations in housekeeping, guest services and in our kitchen. Our season runs from the end of May until mid October with our peak season being mid July to mid October. We are very fortunate in that most of our amazing staff returns from year to year but we sometimes have a few staff who feel the call of adventure and head off to another part of the planet for new discoveries. If you're passionate about people, wildlife and wild places, and are interested in the idea of working with us, don't hesitate to
drop us a line.
We typically do our hiring in January and February for the following season.
We have a great mentorship program for new staff who get to work with a team of some of the most experienced
wildlife viewing guides on the British Columbia coast here at Farewell Harbour Lodge. All of our guides hold
Advanced Wilderness First Aid Certification
,
Transport Canada certification in Small Vessel Operations
,
Marine Emergency Duties
,
Marine Radio Operations
, and Wildlife Viewing Training. Many of our guides are also certified in sea kayaking through the
Sea Kayak Guides Alliance of BC
. If you don't have these certifications, let us know as we network with some of the best training facilities and instructors for these certifications
Our lodge operations staff must all possess
FoodSafe
and
Serving It Right
certification.
We also work closely with a variety of post secondary institutions who offer comprehensive guide and outdoor leadership training programs including
West Coast Adventure College
and
North Island College
on Vancouver Island.